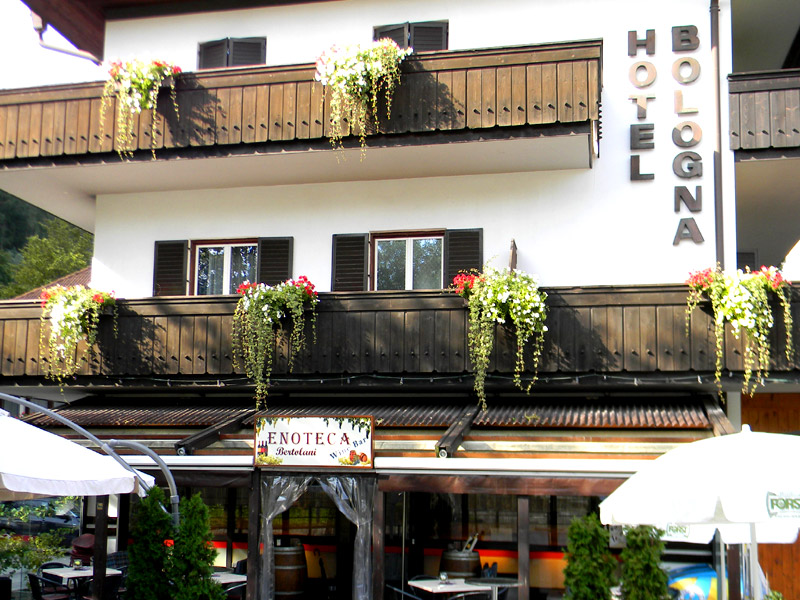 The HOTEL BOLOGNA is located in the centre of Brunico in a very special position, is located a few meters from the Central Street with shops and cafes, not far from the train station. On the back side there is a wood with benches and walking trails. At 50 meters there is the city bus stop to the ski slopes. The sky area Kronplatz is 3 km away and the sports area with the wellness centre Cron4, a cross-country track, a tennis and golf fields are 2.5 km away.
For the convenience of its customers are private parking and lift to all floors.
A free Wi-fi connection is available in all rooms.
Our history:
HOTEL BOLOGNA was built by his grandfather Umberto in 1951, the last son of a large family from Carpi who moved to Brunico after the great war. Those were difficult times for Italians who wanted to do business in South Tyrol. Those who wanted to do business and settle permanently were frowned upon by the local population and by the public administrators. He needed tenacity and great personal will as well as the proximity of a united family to be able to create his project and manage his business in the years to come. In 1974 the Hotel Bologna was completely renovated, at that time it was the first hotel in Brunico to have rooms with its own private bathroom. The improvements continued over time, in 2002 a modern kitchen and a small wellness center with Finnish sauna were added. Today, 70 years after its construction, Hotel Bologna is always managed by the same family with its third generation.